Underground Conference 6 - uc6.22
Not exactly loveparade...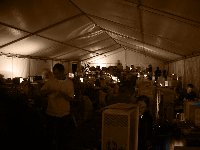 Announcing Underground Conference 6.22
The sixth Underground Conference (uc6.22), organized by members of vacuum, farb-rausch and several other supporting forces, is scheduled for 18. to 21. july this year (Thursday to Sunday).
As you may know, underground conference is an annually demoparty that differs quite a lot - it's more or less invitation-only to filter out gamers, leechers and lame party animals. Of course we make sure that every true scener gets access. It also always had and always will have very strange features and competitions.
Since 1996, UC has been an open air party at different locations in southwestern germany. But even if located in some deep forests, we always managed to bring our visitors everything their hearts could desire - a huge partytent with impressive soundsystem and bigscreen, enough power for everyone, a perfectly stable partynetwork, food-support at self cost prizes and hell, even internet access (by installing a looooong cable connection through the woods).
Anyway, we think that doing the same thing again and again sucks. UC brought the scene quite a lot of progressive ideas, and now we think it's time for a change again.
That's why this year's location will be of a very special kind. After lots of paperwork, discussions with all kind of officials, we managed to get the craziest uc-location ever: UC6.22 will be held in an old military base (abandoned two years ago by german military) in Bingen/Rhein, Germany (that's near Mainz/Frankfurt). The military left this location without changing too much. Well, basicly they removed the weapons, but that's it.
Please don't take this the wrong way - we ain't military freaks or anything. None of the organizers ever attended military service, and we dislike the military just like you do. But hell, abusing a military base ("Bundeswehrdepot") the way we do it will be fucking cool :)
If you consider yourself beeing a real scener, please feel invited to our party.
signed,
scamp/vacuum [uc6.22 mainorganizer]
- for the uc6.22 organizing team -