Underground Conference 6 - uc6.22
Not exactly loveparade...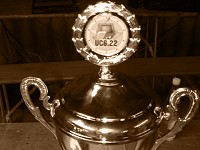 It's over...
Original starting page moved here
Yes, the sixth Underground Conference (uc6.22), happening from 18. to 21. july 2002, now is history.
We are very happy that this UC was another success...
Here are a few links worth checking out:

ftp://ftp.untergrund.net/uc/uc6.22/ - all releases
uc6.22 picture report done by sierra & garth - rocks, check it out! (german text)
detailed report and pictures by crest - (german text)
pictures by eha
pictures from various sources at slengpung.com
pictures done by fashion
commented pictures by lazyone


...more pictures and videos coming up soon.

If you have pictures/videos/reports about uc6.22 and wish to share them, please contact scamp.
I'd like to thank all uc6.22 organizers and visitors for making another underground conference come true - see you at Evoke, Dialogos - and of course at uc7.
signed,
scamp/vacuum [uc6.22 mainorganizer]
- for the uc6.22 organizing team -